Bonk Be Live App [Android And iOS] : Best Thing Ever Happened In Live Streaming Market
Boink Live Streaming Corporation was an organization which was founded in Delaware, USA. In a very short time, they have grown into a multinational company with their offices in many countries like New York, Scottsdale, the Philippines, Indonesia and the United Kingdom.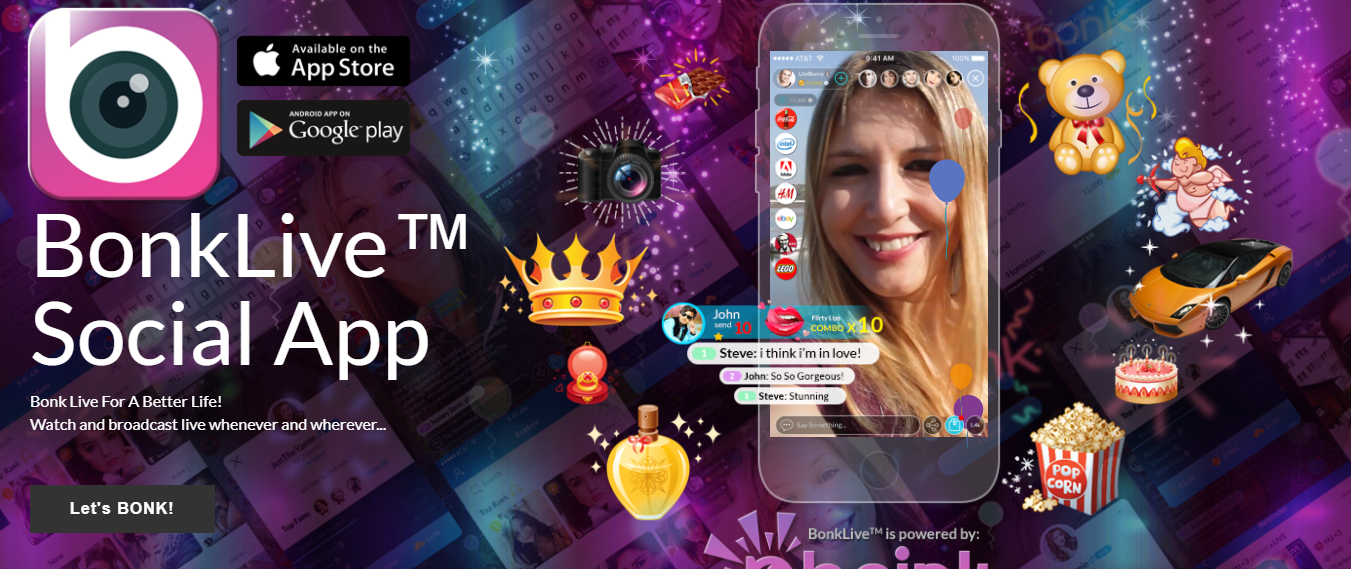 Currently, the Corporation has focused their attention on a very promising project – the development and launch of the Boink Live Streaming app, which is believed, would be able to capture the youth across the globe.
The Boink Corporation aims to capitalize on the growing entertainment market in all countries through the production and promotion of high-quality live streaming entertainment.
In order to turn this vision of theirs into a reality, the Corporation has invited men of repute in the field of Internet Technology- Joe Adams, who raised MySpace and John Fanning of Napster. They hope that these experts will help Bonk Be Live reach its utmost potential.
As of now, they have realized a beta version of the Bonk Be Live App, to be tested and perfected. This has been possible thanks to their technical partner iMagically and the production support of IDAP software Development Company from Ukraine.
Boink plans to appeal their product to all consumers across the globe through a colorful and interactive interface. They also plan to introduce a gamified user experience, which will make fun go hand in hand with profit.
The executives at the Corporation plan to develop the revolutionary streaming functionality to the level of social media streaming platforms with their engaging model.
The Bonk Be Live functionality includes-
Integrating their app with various other social media platforms. Users of Bonk be Live will be able to connect their Facebook or YouTube accounts to their Bonk Be Live accounts, so that they can share their streams, posts or moments and invite their friend to try out Boink too!

Personal profile page for all users, enabling them to post and share media content. Everyone loves to express their personality, their likes and dislikes, etc. Bonk Be Live packs in the required software and gives them the chance to share their moments, photos, videos and music (through Apple Music, Spotify, etc.)
Bonk Be Live has introduced a "Moments" feed, so that their users can stay aware of what's happening with their friends and loved ones. Users will be able to see posts, photos, moments and new of their friends, and other streamers whom that particular user follows.
Bonk Be Live messenger offers a stylish and fun texting experience- with GIFs, stickers, audio and video messages, group chats, etc.

Audio and video call. Texting is great way to connect, but when you want something more extensive, calls are your go-to. In Bonk Be Live, users will get to audio and video call their friends, both in private, or in groups.
The Boink Corporation has integrated Augmented Reality into its Bonk Be Live streaming, to provide an enhanced streaming experience. By using attributes from Augmented Reality, users will be able to create and add a multitude of objects and sounds to their broadcasting. This will enable them to better communicate with their viewers.
Mini-games will be present in the app to entertain the users. These games will change how the users view the app. The games will also give the users a change to earn extra points.
Various rewards and gifts will be present in the app. Users will get the opportunity to receive gifts from their friends, rewards from the broadcasting, or from playing games. The rewards and gifts they receive can be later exchanged into national currency for their home country.

This app is going to help its users raise to a celebrity status. They will earn rewards by sharing their moments and showing their attitude ad mentality towards various issues while they have the most brilliant experience of streaming.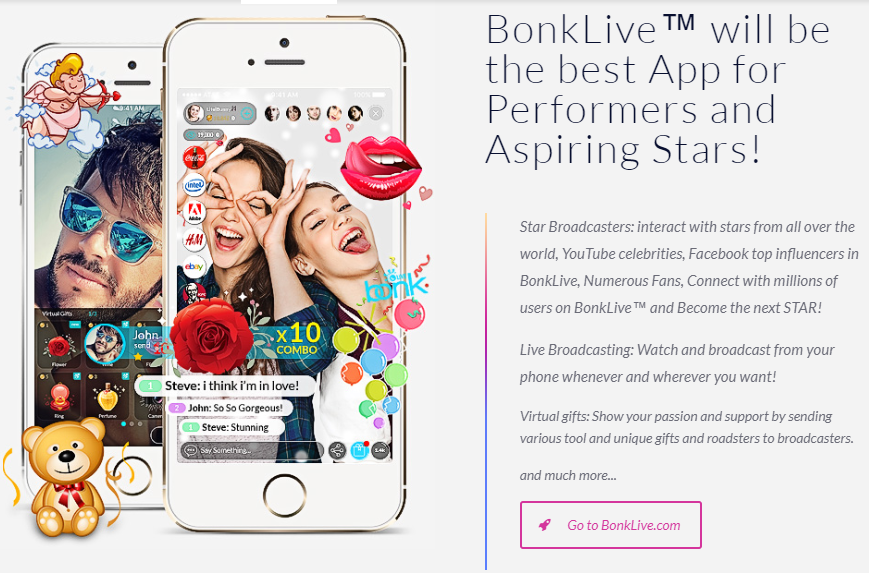 The beta-version of the app is available in Play store and the Apple Store.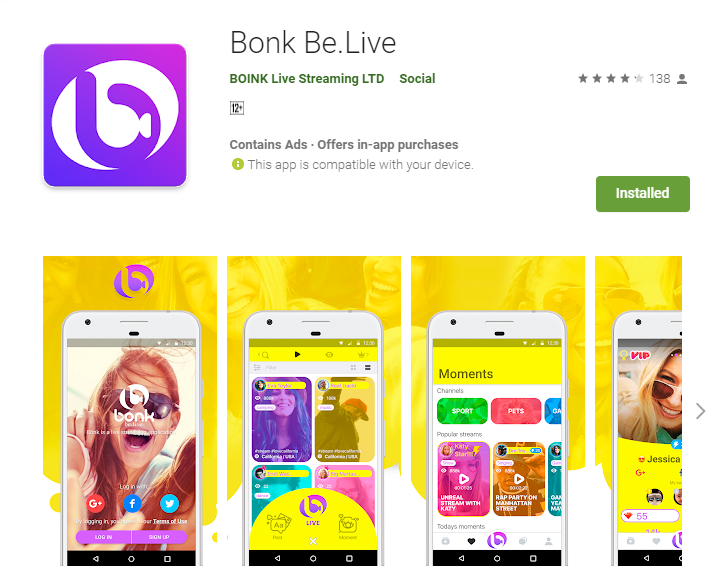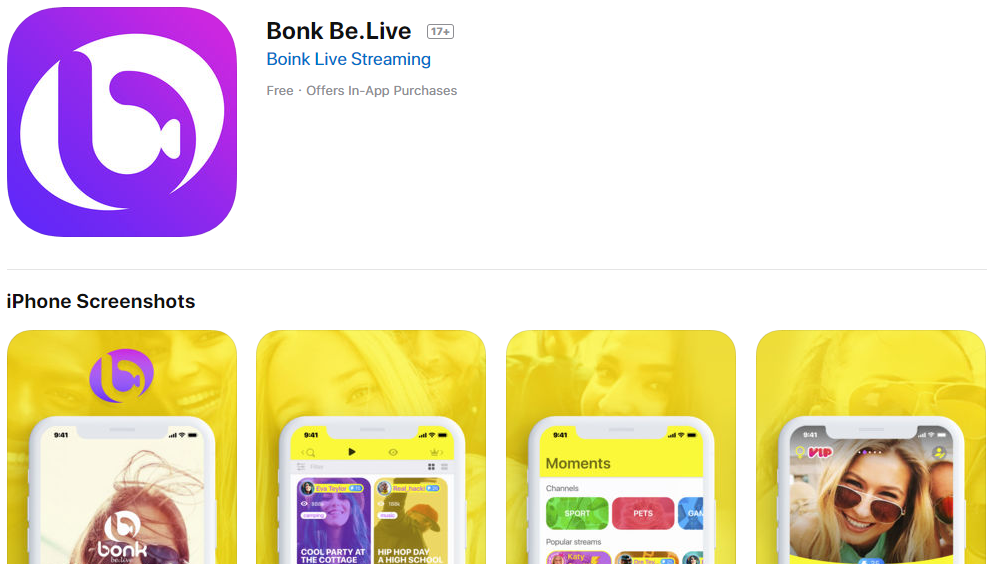 Boink has an extremely transparent face while marketing, the rewards received by its users can be converted into currency without involvement if any third-parties. This also becomes a desirable asset for advertisers. Hence, Bonk Be Live Streaming Corp. Has looked into creating an advertisement cabinet.
The core strategy principles are-
Raising Bonk Be Live to a social platform
Colorful and interactive design
Advertising opportunities and analytics
Multiple language support, etc.
Bonk Be Live is thus a new high-styling streaming application which promises its users great streaming qualities with a wonderful experience.