What is Skype
Skype was created in 2003 during the early days of Voice over IP or less technically Internet calling.
Skype is a VoIP service, which uses the Internet to allow people to make and receive free voice and video calls online for free or for cheap. This video calling application has more than 75 Millions user.
It was founded in 2003 in Luxembourg, Skype is a division of Microsoft Corp.
How to enable Skype Push To Talk feature for Windows 10




Wondering How to enable Skype Push To Talk feature? Well if the answer is yes then we are here to help you out. As you read further in this article we will be discussing about Skype push to talk feature and how can you enable it.
As you know when it comes to video chatting using the internet Skype is one of such names that people suggest the most. It exists on this planet for a quite a long time and it is also one of the oldest video chatting platforms. However, in recent times, the video chatting industry is ruled by different messaging service. However, it is still one of the most used videos chatting platforms that people are using. Skype is a product by Microsoft and you can download skype for any platforms. For example, you can download skype on your smartphone or windows based computer. However, as we go further in this article we will be talking about enabling the Skype Push To Talk feature on desktop computers. So let's just head into the topic without wasting much of the time:




Steps by Steps Guide on How to enable Skype Push To Talk feature:
So let's talk about the steps now, well in order to enable the Skype push to talk feature. You have to go through the following steps and you will be good to go. So here we go with all the steps:
First of all, update your Skype application. As it is always nice to have the latest version, so make sure you have updated the Skype app.
In order to update the app you can download the latest skype version you can visit the official www.skype.com website from your desktop browser.
After visiting the website click on download button. You will get the download button on the first page itself. So just click on the button.
After clicking on the download button. The download process will start in a few spans of seconds.
Once downloaded, double click on the file in order to install the Skype application.
Then you have to follow the screen instructions in order to install the latest version of Skype application. The installation process is quite simple you do need any technical knowledge at all to get down with the installation process.
Just in case if you are using a smartphone then you have to go to official app store. If you are an Apple user go to the App store and search for the Skype app and update it. If you are using an Android smartphone the go to the Google Play store and look for the app. Then click on Update.
However, if you already have the latest version installed on your computer or smartphone. Or you do not want to update the skype application then you can skip the above mentioned steps. Now let's head into the steps of enabling Skype Push To Talk feature.
So, first of all, start the application.
After installing the application you have to go to the go to the Tools option. So you will get the tools option at the top of the skype application. So click on that.
After clicking on the tools option you have to go to the "Options". So click on the options button.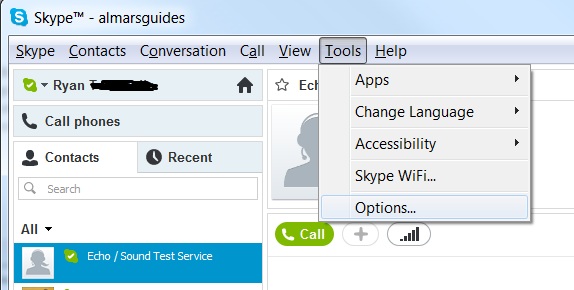 After you click on the options button you will get another menu. From here you have to select the Advance option. You will get the advanced option listed at the below of the menu bar.
Now you will get a screen listed with some categories. However, you have to go to the Hotkeys option. So click on the "Hotkeys" button from the right side of the computer screen.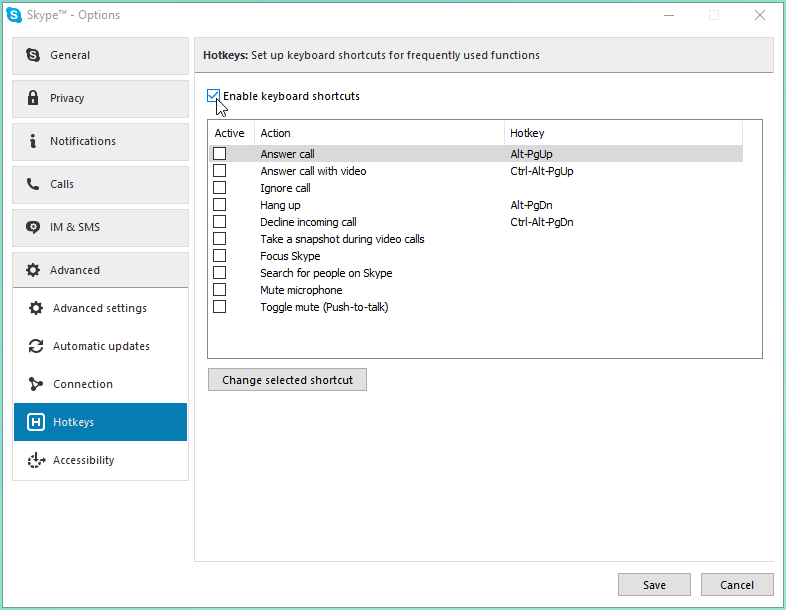 After entering to the hotkeys option you have to click on the Toggle Mute(push to talk) checkbox. You will get the check box at the end of the listed options. So simply place a tick on the checkbox and you are good to go.
Also make sure that you have not changed anything, as unknown changes in settings may lead you to reset the Skype application. So it is advisable to play with the settings if you know what you are doing else do not process further.
How to enable Skype push to talk in Mac
Mac users we have got you guys covered, here is how you can enable push to talk skype.
First of all, run the Skype application into your machine and then quickly login to your account.
Now, go ahead and call anyone. Push to talk while calling can be achived in mac using a command.
Alright, you are almost there, go ahead and press control + option + command + up keys simultaneously this results in "push to talk".
Although you can set a custom key for using this feature.
Video on Skype push to talk
Skype For Business Download
Skype has a separate Business focused application. You can easily do phone call, video call, host or attend meetings. It is a part of Microsoft 365 suite.
You can download it from the button below.

Conclusion
Also just in case if you have any further questions regarding the enabling the Skype Push To Talk feature on desktop computers. Well then you can simply comment down below and we will surely help you out.