How to Back up and Restore WhatsApp Messages on iPhone
Back Up and Restore WhatsApp Using iCloud
1.Back Up WhatsApp to iCloud
You can easily back up your WhatsApp chats in iCloud. To do that, launch WhatsApp on your device and then go to Settings > Chats > Chat Backup > Back up Now". The backup might take some time and it depends on the speed of your internet connection.
You can also easily enable automatic chat backups, allowing iCloud to regularly backup your WhatsApp chats.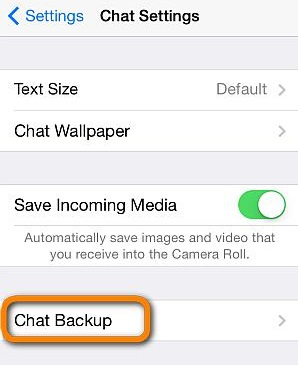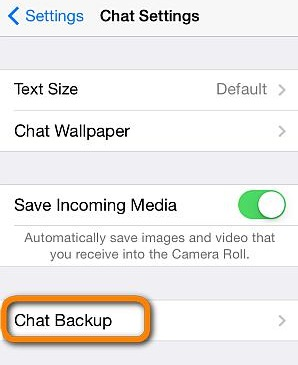 2.Restore WhatsApp from iCloud
To restore the WhatsApp chats from the iCloud backup follow these simple steps;
Step 1: Begin by going to WhatsApp > Settings > Chats > Chat Backup to make sure the iCloud backup is there.
Step 2: Once you are certain you have a backup delete and uninstall WhatsApp from the app store.
Step 3: Reinstall the app and then verify your phone number. Follow the on-screen instructions to restore the backup.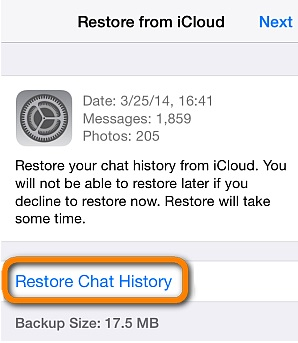 GB Whatsapp is application which is a clone of the normal Whatsapp application with more amazing features which has earned this app a hype. Download GB Whatsapp.
Back Up and Restore WhatsApp Using iTunes
You might also be able to create a backup of your WhatsApp chats through this method of Apple. It is also effective and allows you to restore the WhatsApp to your iPhone later just in case something goes wrong. You will need to erase all the content and data on your iPhone before restore the backup.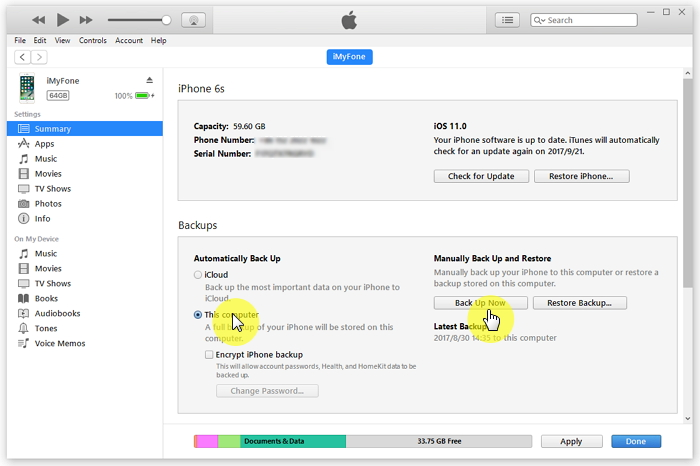 Save WhatsApp Data via Email
One of the ways you can back up your WhatsApp chats on your iPhone is by simply sending the chats to yourself via email. WhatsApp allows you to export chats to email although they will not include media files.
If you want to save the conversation you can email yourself the chat history using this procedure.
Access the conversation on WhatsApp that you want to email yourself.
In the navigation bar tap on the name or contact number of the person.
Scroll to the bottom of the chat and select the option of export chat.
You will get the option of whether you want to attach media or want the email without media.
You can select the mail app from the given options according to the account you are using on your Apple device.
Enter the email address and tap on send.
Within few seconds you will receive the notification.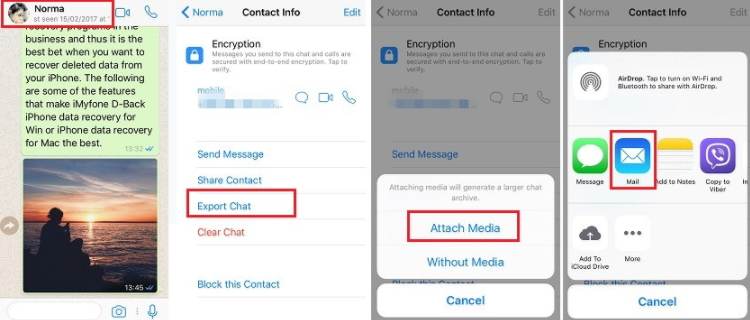 Bottom Line: Comparing the 3 Methods
The methods we have outlined above all have their pros and cons. But to get a real sense of which one will work best for you, it is necessary to compare them against each other;
iTransor is a paid method but you will not have to uninstall WhatsApp to restore the backup since the backup is stored on your computer.
iCloud is free to use although you will have to uninstall WhatsApp when restoring the backup. You will also require to pay storage space in iCloud if you have a large WhatsApp backup.
The third method is also free but you will not be able to restore WhatsApp messages only. All the data on the device may also be erased during the restore process.
The last method is free but it saves only some conversations instead of the whole WhatsApp database.
Jihosoft Giveaway Alert:
The best iPhone Backup Extractor Free software to extract photos, text messages, contacts, voice memos, note, WhatsApp, Viber and etc from iPhone/iPad backup.
You may also like:Gihosoft iPhone Data Recovery
Must Read:Jihosoft iTunes Backup Unlocker
We hope now you will be able to backup and restore whatsapp messages on iphone. If you have any questions please ask in the comment section.